WCT Group
Bat Management Short Course
Certificate of Completion.
&
WCT Group
Wildlife Exclusion Workshop
Certificate of Completion.


A D C
Naturespect LLC
Wildlife Nuisance Removal
740 664 3333



Bat in house, walls or the attic
are a symptom
of a bigger problem.

Bat Man,
Serving Southern Ohio.
Personal, Home Land Security
Your Protection is Our Priority
Home should be SECURE
There are 1,240 distinct and very interesting Bat species globally. According to Bat Conservation International. Fruit Bats, Carnivorous Bats, even a few Fishing Bats. There are 47 Bat species live in the continental United States, and 14 species of Bats throughout the Ohio valley region. Bats are amazing creatures. They are the only flying mammal and there varieties and habits are fascinating. To often they are killed out of baseless notions and fears.
Information; provided by Ohio DNR and Bat Conservation International:
For our Purpose, We will list,
The Top 10 Southern Ohio Bats
Which are the most likely found in Southern Ohio homes and building.
Click the photos for Species Details.

For more information, all about Bats in Southern Ohio. Contact,
The Ohio Department of Natural Resources, Division of Wildlife, ODNR-DW. At odnr.got
Or
Another excellent source for learning all about bats is. Bat Conservation International, BCY. At batcon.gov


What do Bats eat?
I'm often asked, What do Bats eat? Although there are bats that are obviously considered herbivores. Most Bats are carnivorous mammals. There are even a few Bats that feed on fish.
Nearly all American Bats feed on insects. Moths, beetles and various flying and some none flying insects. A couple species, The Mexican long-tongued Bat and The Lesser Long-nosed Bat will eat Fruit, pollen, and nectar as well as insects. The Mexican long-nose Bat prefers Nectar and pollen. While The Jamaican fruit eating Bat obviously prefers a diet of Fruits. Yet some American species of Bats diets aren't clear. But our Southern Ohio Bats are strictly our insect control friends. The Little Brown Bat is well known for worming, acrobatic flying and swooping over ponds and lakes. Gorging on flying insects.

Bat in house, walls or the attic
The occasional bat in house issue, can be as simple as leaving windows or doors open near or during dawn or dusk. Carrying a package or other object into your home during dawn or dusk. Without knowing a bat is hiding in or on the object or faulty windows and doors walls or door.
Frequent bat in house issues, could be a sign of a bigger more complex problem. Bat in house, walls or the attic are a symptom that has become a bigger problem. This will lead to the problem of large amounts of bat guano and urine saturated beams and isolation. Although this symptom has become a problem in its self. The primary problem is the condition of the structure.
Bats are amazingly observant. They can find the slightest little openings or crevasses on any structure. They only need a 1/2" hole. (Smaller than a dine) or a 3/8" X 1" crack or crevasse. (About the size of a cigarette filter) to get in the structure. This problem requires a good amount of knowledge and experience to solve. In this case, the attic and often the walls will need restoration.
How to get a bat out of your house
How to get a bat out of your house is as simple as making the house uncomfortable for the bat and providing an easy way out. The occasional bat in house issue is common. Especially in areas of trees, bodies of water and caves. If you happen to find a Bat flying around in your home, hanging on a curtain, over a fireplace or any other places he can get a grip. The very first thing to do is, DON'T PANIC!! Don't set out to kill the deadly monster. Bats are relay quite harmless. And fare more afraid of being this close to you than you are of them. Forget all the vampire tales. The last thing they want to do is get tangled in your hair or bite your neck. What they do want to do at this points. Is to stay away from you. But under this situation I'm sure you thinking, "Sorry buddy, but this is my home and you need to go"
Here is how to get a bat out of your house safely. The first and best thing to do with a Bat in house issue. If possible, slightly raise windows and/or open an exterior entry door. Close any other interior doors to the room the Bat is in and turn on all the lights on in that room as you leave the room. Bats don't like light and will sense the outside air and leave the premises usually in under an hour.
How to catch a bat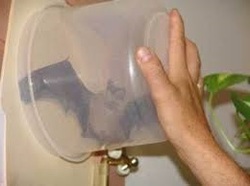 Typically Bats getting in a home happens after dusk. After isolating him to an area. You, a family member or friend can carefully capture and release the Bat. The best way is to prepare a flat piece of cardboard to use as a lid for a large coffee can or the like. Place the can over the Bat. Then using the cardboard. Slightly tilt the bowl or coffee can so the cardboard lid can slide under the can. Continue gently sliding the cardboard under the can without pinching the Bat in any way. Once the cardboard has cut off his grip from the wall or curtain or surface and the bat retreats into the can. You can keep the cardboard lid on the can. Take the Bat outside and release him onto a tree or the like. Not on the ground please.
Some people use a net for catching and releasing Bats. That's quite fine. I personally prefer the bat tube or can method before a net. Because Bats can get tangled and hurt in a net. If fore some reason the Bat doesn't leave after an hour. And you would rather a professional remove him. You might want to keep the Bat isolated and save some money by calling me the next day. Naturally later hours cost more.
---
Bat sounds
Bat sounds are very distinct sounds. If your hearing tiny little scurrying in the attic or walls. You're not likely hearing a Bat. But most likely hearing a mouse. Rarely do Bats land on the attic floor. They roost by hanging and avoid landing on any surfaces. Because of there difficulty taking flight from such a position. Bat sounds ardent a squeak like a mouse. But more like a high pitched raspy chirp. A very distinct sound that you will not mistake for anything but a Bat, once you've heard it.

Can Bats see?
Can Bats see? Of course they can see. Bats do use echolocation in order to navigate while flying, and detecting insects. Bats can sense the sound waves, after hitting an insect, causing an echo. "Blind as a Bat" Is an urban legend that just doesn't ring true with Bats. They can see quite well actually. The fact that they don't like light is a clear indication even to the novice. They can see you, and frankly, Bats want to avoid you. Even when flying near you, they're most likely trying to find a way to get away from you.
Non - Critical, Types of Southern Ohio Bat Roosts
The occasional Bat getting in your home doesn't necessarily mean you have a in house issue or Bats in the attic or a colony. Bats on the side of your house doesn't necessarily mean you have a Bat in house issue or in the attic or colony. Bats generally have 5 types of roosts. Three of which probably aren't a large problem. Migratory roosts are simply a bat or maybe a small group of bats resting before moving on. Feeding roosts are usually a bat or a small group of bats frequently resting while feeding. A group of males often colonize in groups. So if you do have a colony in the attic. It could very well be a Bachelor Colony. Which isn't usually as damaging to the attic as the notorious Maternity Colony. Its typically a maternity colony that produces large amounts of bat poop (Guano) in the attics.
Southern Ohio Hibernation & Maternity Colonys
A few of us from the Ohio Wildlife Control Operators Association OWCOA. Are working closely with The Ohio DNR Division of Wildlife. To form and propose the best possible laws for our industry, regarding the safety of our Ohio Bats. In order to properly work around the Bats hibernation seasons. (Approximately November through mid March) as well as their maternity season. (Approximately mid May through mid August) A Bat that has found its self evicted from a roost during a hibernation season. Stands a poor chance of surviving the winter. Likewise, a baby Bat's mother that has found her self evicted from her maternity roost before the pup is weened. Those baby Bats will die. This leave just around 4 1/2 months annually for a responsible animal control company's to evict these animals from structural roosts. Once these baby Bats are newly born. They are completely dependent upon there mother bring food to them, after their first month of nursing. Yet responsible Bat Removal Specialists allow additional time for a safety variation of birthing dates. Totaling approximately 2 1/2 months ( mid-May through mid August. ) Plenty of time for all the baby bats (pups) to be safely born and weened prior to evicting them with the colony.
Bat Removal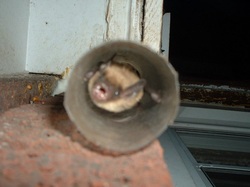 Bat removal seems to be simple on the surface. Using various types of one way valves tubes and flaps to evict the Bats. Is becoming common knowledge. Yet what isn't known, are the various details concerning bat removal and the total exclusion process. The various bat entry points and why different types of eviction methods are used. Keeping the Bats safe from harm is an important priority. As well as knowing all entry points are utilized to insure all bats are evicted properly before sealing up the entry's. ADC Naturespect would never suggest any novice take on a Bat eviction project. Even our citified field technicians are supervised until sufficient experience is achieved. Because we've seen too many bungled Bat jobs. We are a proponent of newly proposed laws concerning Bat eviction and exclusions.
---
The Attic
Restoration definition
Yes its a very dirty job. Not to mention the health risks. But someone's gotta do it. Below are a few photos. Showing various types of bat in house issues and damage in the attic. What should be done and the process. A few photos are courtesy of Ron Scheller. Of Mount Olive, Illinois. Ron is a good friend and industry associate. Who is also quite the industry photographer and facebook commentator on various wildlife nuisance issues.
Bat poop, scat, droppings. - Its called guano. If you see Bat Guano speckled on an exterior wall or on the ground along an exterior wall. On any portion of your roof or in your guttering. You likely have a Bat in your home structure. It's the Bat guano that contains the Histoplasmosis spores that we don't want to breath.
Urine Crystals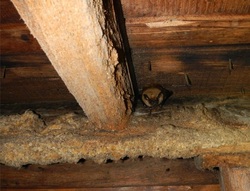 Bat urine will quickly crystallizes at higher temperature in the attic. The urine tends to quickly evaporates and crystallizes in large amounts. Urine saturated rafters and joists quickly build up in yellowish / whitish powdery like layers. Much like cave stalactites and stalagmites. Large numbers of Bats in the attic will produce thick hardened globs of crystallized urine. Given enough time the crystallized urine begin to cause deterioration of wooden structural integrity. Urine saturated beams crystallize. Causing the wood fiber to separate. Weakening the support structure over time.


---
Health Risks with Southern Ohio Bats
Partially parifrased from the Centers for Disease Control and Prevention CDC
Parasite & highly fatal Bat diseases.

Bedbug & Bedbugs: Are the same family and nearly identical. It is a common theory that bed bugs evolves from Bat bugs that attached to humans living in caves with bats. The differences can't be seen with the naked eye. But must be observed under a microscope. Or trained Animal Control Operator can define the differences with a pair of Watch Repair Magnifiers. Bat bugs are blood suckers and bite people just as bedbugs do. Although Bat bugs naturally travel with Bats.
Cryptococcosis: A disease caused by fungus that naturally occurs in the soil. Naturally growing in bird and bat droppings. The symptoms include meningitis, severe headache, mental disturbances, fever, blurred vision, and cough. Most common in individuals with compromised immune systems.
Histoplasmosis: An other disease associated with bats. Symptoms vary. But the disease primarily affect the lungs and other organs are affected on occasion. Histoplasmosis can be fatal if untreated. Histoplasmosis is caused by a fungus that grows in soil and material contaminated with droppings from animals, including bats. Bat poop, known as bat guano, can contaminate the soil and cause infectious spores to be released when the soil is disturbed. Even though it can be found throughout the world, it is especially prevalent in places such as Southeast Ohio and can be found in places that harbor large populations of bats, including forests and caves.
Lyssaviruses: Lyssaviruses have been discovered on every inhabited continent. This viruses group causes rabies, in addition to other diseases that are often fatal to humans.
Rabies: Rabies is the most well known disease associated with bats. Along with other animals such as dogs, foxes, skunks and raccoons, bats are one of the primary animals that transmit rabies. Although it is estimated that only around 1% are infected. An exposure to rabies most commonly occurs when a person is bitten by a rabid animal. It can also be transmitted when the saliva from a rabid animal comes in contact with a person's mouth, eyes, nose, or a fresh wound. Being bitten by any animal is cause to act on every rabies precautions. Dispatching the animal without harming the skull for immediate testing, At your local health Department. and notifying your Physician. Rabies vaccinations aren't a terrible experience like we've heard they used to be. That aside, animals bite as a last resort. Wild animals should never be taken lightly.

Southern Ohio Bat Removal Company
County Focus, Listed by County Seat.
Athens Ohio Bat Removal
Caldwell Ohio Bat Removal
Chilicothe Ohio Bat Removal
Circleville Ohio Bat Removal
Columbus Ohio Bat Removal
Hillsboro Ohio Bat Removal
Ironton Ohio Bat Removal
Jackson Ohio Bat Removal
Lancaster Ohio Bat Removal
Logan Ohio Bat Removal
London Ohio Bat Removal

Marietta Ohio Bat Removal
McArthur Ohio Bat Removal
McConnelsville Ohio Bat Removal
New Lexington Ohio Bat Removal
Portsmouth Ohio Bat Removal
Washington Court House Bat Removal
Waverly Ohio Bat Removal
West Unio Ohio Bat Removal
Wilmington Ohio Bat Removal
Zansville Ohio Bat Removal